Where customers accept Farmlands payments via their Eftpos terminals, do not confuse this with the Farmlands Integrated Payment Method. These are two totally different things, the Integrated Payment Method does not use the Eftpos machine.
Where the transactions are processed via the Eftpos machine, the Business needs to have the Eftpos machine configured by Windcave to use the Farmlands cards.
In Infusion, make sure there is a Banking Method for Farmlands Card in both the Banking Group and Banking Method.
If the Eftpos terminal is Integrated with Infusion, select Process Via EFTPOS Terminal as below.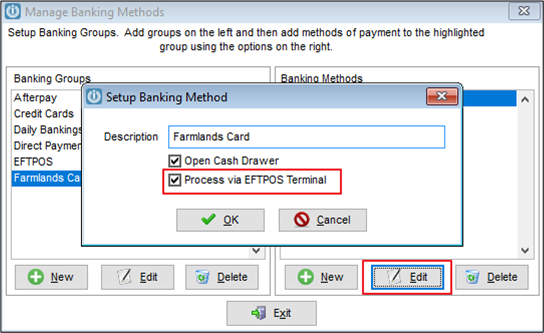 When the sale is processed, all payment methods that are set up to process via the EFTPOS Terminal, will be displayed in Red.
As you can see above, this also relates to Afterpay which is swipped via the Eftpos Machine.