Infusion and Sprockit now offer Farmlands as an integrated payment method. Meaning that processing is quicker at the till and ensuring that payments are processed between your company and Farmlands in a timely and efficient manner.
See Farmlands via the EFTPOS Terminal if Farmlands cards are swiped by the user.
The set up of this process is done in steps
Step One: Activate the Farmlands Payment Method and use for all transactions. Customers are still set up the same as previously and invoices are sent to Farmlands as they always have.
Step Two: Once a Credit is processed via the Farmlands Payment method, let your contact at Infusion Software know. Copies of invoices and credits are sent to Farmlands along with the EDI export for approval.
Step Three: Approval is granted (this can take about a month) the Head Office link and emails are removed and the Cash Sale account can be used. Transactions will be sent to Farmlands via an EDI Export.
Taking Payment via Farmlands Card
Freight: Do not use the Freight field at the bottom of the POS screen. This must be added as a line item.
You will now use the Farmlands Payment method to accept payment.
From the POS or Invoice screen, select Farmlands Card. You will see it in blue as it is an integrated payment method.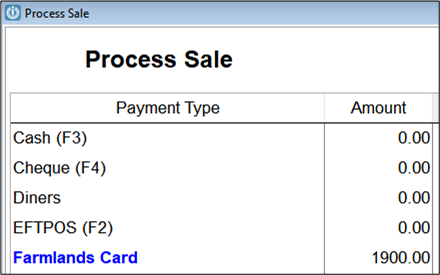 You must pay the entire amount to the Farmlands Card. You cannot split the payment between more than one Payment Type.
Either:
Use a magnetic card reader (this is NOT the EFTPOS machine) to swipe the customer's card; or
Use a barcode scanner to scan the number on the back of the customer's card then enter their name; or
Enter their details manually
Click Process.
Farmlands Card Payments must be authorised if Card Not Present, or the invoice is over $10,000 – follow the instructions on screen to call Farmlands for approval. Phone 0800 200 600.
Setting up Customers
The above process is activated and used initially but users must continue to set up the Head Office accounts as they always have for Farmlands customers. With the Head Office link and selecting the email defaults if this was your process. Step one from above.
Once you have completed a credit using the new Farmlands prompt screen please let your contact at Infusion Support know and they will send files off for approval by Farmlands. This approval can take about one month, step two.
When approval is granted, Infusion Support will remove the Head Office link and email address links. This is step three.
Frequently asked Questions
Can I take Farmlands as a Payment Method on the Cash Sale Customer Account?
Not until step three. Then once approval has been granted, we recommend that invoices paid for through Farmlands are still processed through their own customer account.
There is no requirement to have the Head Office or any other details loaded against their account.
Does a customer that pays with Farmlands require Terms?
No - you can set up a customer with only Cash Sale terms. Because they are paying by Farmlands, they do not need terms.
Can I take Part Payment of an invoice by Farmlands?
No - the Farmlands Payment method is ONLY available for full payment of a single invoice. It is not available for customer payments, part paying an invoice or paying a job deposit. You will need to create two invoices if part payment is required.
How do I credit an Invoice charged to Farmlands?
The credit must also be charged back to Farmlands
The user must create an invoice with a negative quantity and process the invoice. If this is a POS credit note, the payment method will be Farmlands.
The customer has changed their mind and doesn't want to pay by Farmlands
Just as for any other payment method, you will need to credit the invoice, refund this using the Farmlands payment method, then reinvoice to charge as desired.
How do I charge for freight?
The freight field at the bottom of the invoice screen must not be used when creating a Farmlands Customer Invoice. Instead, a product code for freight must be entered into a line of the invoice; otherwise the freight amount will not be included in the payment from Farmlands.
Where can I see the invoices / transactions paid by Farmlands?
Using Farmlands as a payment method simply transfers the debt to the Farmlands head office customer account in exactly the same way a head office account against a customer does.
You can see the transactions in the Head Office account enquiry, you can view the Invoices in the customer's own account enquiry.
Do I need to cash up the Farmlands Payment method?
No. Because it just transfers the debt to a nominated customer, there is nothing to cash up at the end of the day, or in a cash drawer. Your accounts person will be responsible for sending Farmlands invoices to Farmlands via an export.
Do I need to email the Farmlands Invoice to Farmlands?
Yes, but only until you are at Step Three, then the invoices are sent to Farmlands via an EDI Export. This is the format that they prefer rather than by email.