There are options on how to create a quote, by going to Invoices / Quotes and select new Quote, right clicking on the customer and selecting New Quote or using CTRL+Q.
Select the customer account.
The Quote form looks the same as the invoice at the top of the screen.
Notes
It is recommended that a title is given to the quote. Add any notes specific to the quote or from the Insert Custom Text list.
Custom Fields
If custom text or dates are required, these can be added
Payment
Deferred payment's can be set up during the creation of the quote.
Internal Notes
Enter any notes that relate to the quote but are not relevant for the Customer.
Documents
Scan and save any related documents, specification, plans or quotes from your Supplier.
Center Panel

The quote number will be automatically generated but, depending on settings can be overwritten.
Date can be altered if necessary.
The default Expiry date will depend on settings under Admin / Defaults / Manage Custom Defaults
Select the relevant Location, Staff codes and enter a Ref if required.
The invoice # and Job Id boxes will only be populated when a Quote is accepted.
The Options for Status are:
Accepted - turned to an Invoice or Job
Active - Still a quote
Declined - Customer does not want to proceed
Follow Up - make contact with the customer
Options for Type are:
Quote - this is a fixed price and can only be change in writing
Estimate - an indication of the pricing which can be either higher or lower when turned to an invoice
Entering Products
Enter the products by using a barcode scanner, using F9 to select the product code, /P to use the pricebook (Shown in Gray below) or manually typing in the product code.
Further Options
Lines can be deleted or inserted.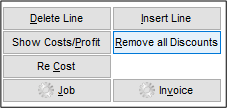 The cost and proffit will show against individual lines and
as a total at the bottom of the screen

Remove all discounts will do exactly that
Re Costing will show the Markup % to apply box
IF a figure is entered here, this will apply to the Cost price of all items
This increase is now reflected on the pricing
The Job or Invoice buttons will turn the quote into the next stage.
See Creating a Quote and adding to a Job