We have a Job that has come from a Quote, where all of the costs where added to the Job.  But when we turned it into an Invoice or looked at the Sales Analysis Reports the Costs were not showing.
Solution
When a Quote is turned into a Job or an Invoice, it uses the Cost Prices at the time the Quote was created.  So if there were no Cost prices, theses will be blank, unless the Re Cost button is selected and those prices are updated with the Latest or Average Costs.
When the the Job is opened and the Assign Quoted option is used to introduce the Products onto the Quote.
Once the job is completed and is ready to be invoiced, the option appears for Invoice Details Settings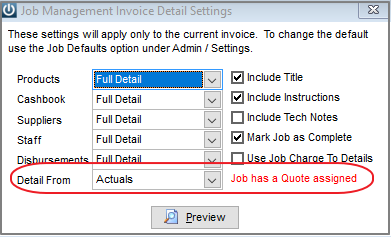 If the Invoice created is from Actuals, it will pick up all of the new Cost prices that have been added the the Job eg from Purchase Orders
If the Invoice is created from Quote, it will look at the Cost prices on the quote when it was created, unless they have been updated.
It is possible to edit posted invoices to update or add costs.  Please see Editing Posted Invoices