Set Up
Locate the Infusion Folder on the Server or Main computer and there will be a Folder called Reports.
Stored in the Infusion / Reports folder are two files Terms.frt and Terms.frx.
Copy and paste these into the Custom folder. 

Entering your Terms and Conditions
These have Latin text which needs to be edited to contain your Terms and Conditions.  
To edit the text, right click on the box and it will open as below.  Without changing any of the options, select the three buttons.
The Expression Builder will allow you to enter in 255 characters that fit in each of these boxes.  It may be necessary to add extra text boxes to fit the required Terms and Conditions.
For the Text to Show add the Quote Marks ' at the start and finish of the text.
Adding an Image
Use these instructions if your Terms and Conditions are available as a large document.
Using the instruction from Setup, open the Terms and highlight to delete all leaving a blank document.

From Report select Insert Control and Picture/OLE Bound
The Terms must be legible and large enough to be read clearly.
The Control Source will detail where the image is saved, this needs to be on the server so that it is available to all users.
The Terms and Conditions from the attached image appear as below.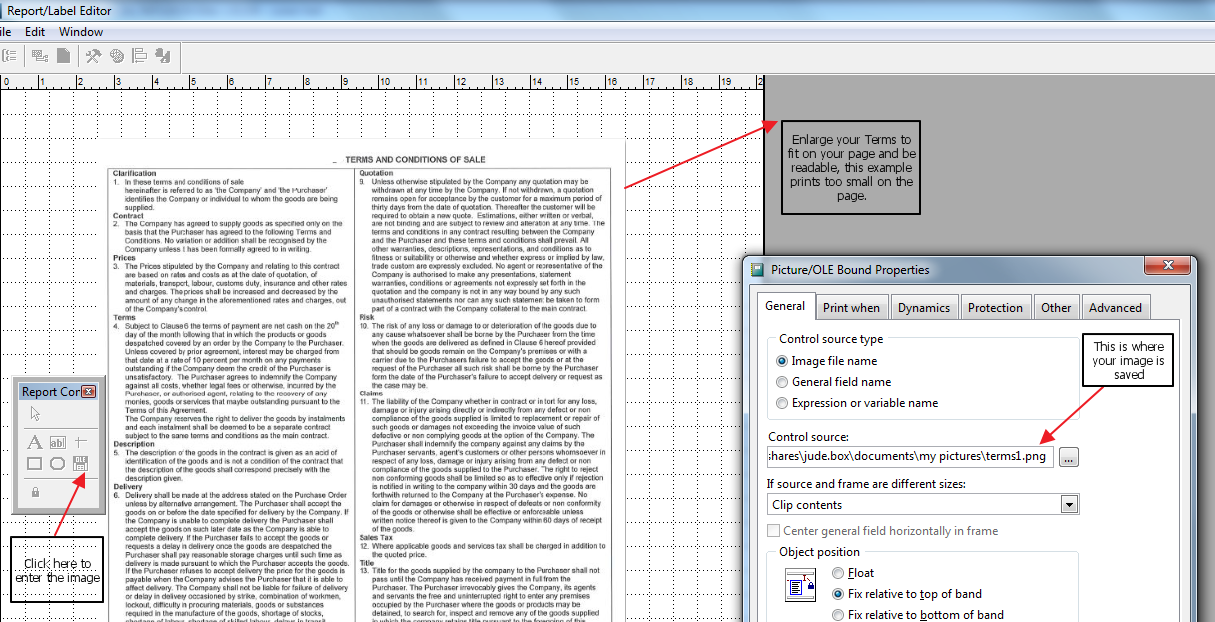 To Print the Terms and Conditions
Once the layout has been edited go to Admin / Defaults / Manage Customer Defaults - Invoices tab and tick the Print Terms and Conditions flag.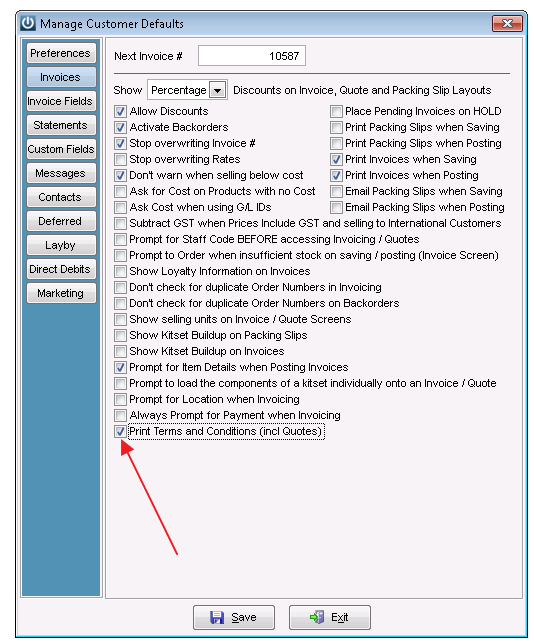 The Terms will print and email on every Invoice, or Pending Invoice and Quote that is Printed or Emailed. 

Other Options
It may be a better solution to look at either of these two options, or both.

Having the Terms and Conditions on Account Applications and having your Customers sign these when setting up their account.

To add a Terms and Conditions page on your website with a link on each invoice eg This invoice is subject to our standard Terms and Conditions available from www.Infusionsoftware.co.nz/terms