How do I set up a Head Office Account?
Solution
The Details Screen needs to show the Address of the Customer NOT the Head Office. Please ensure there is a Delivery Address because this is what shows on the Invoice.
From the Modify Customer screen select the Terms / Pricing tab
In the "Head Office Account" field select / enter the account that is to be the Head Office account then Save
NOTE: From the point of change, transactions posted against the Customer account will be charged to the Head Office account. All prior transactions will stay of the branch account.
See Head Office Account with Adjustment if it is necessary to move balances from the Sub Accounts. Sub Accounts are set up as full Infusion Accounts but the Financial side of the transaction will be posted to the Head Office Account.
Terms / Pricing
Setup the Terms / Pricing page as usual. These terms will be used when charging the Invoices.

Email Links
By setting up a Contact in the Head Office Account, it will make the Contact available for all of the Sub Accounts under Email Links.
Under Email Links, the Head Office Contacts show, along with the Individual Clients Contacts..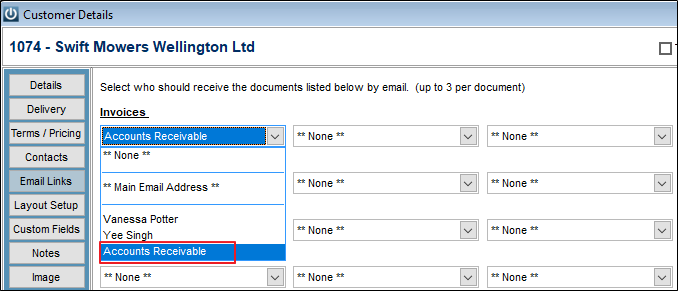 See Charging to a Head Office Account