Occasionally you may receive money into your bank account and not be able to identify who it is from.
In the first instance look in the Pending Invoice Screen, ticking the include Posted flag and highlight the total column. Search for the amount that has been received.

If this does not locate the payment, from Customers / Reports / Aged Trial Balance – By Invoices the payment may be a combination of invoices. Use the find tool (page with a magnifying glass) from the top of the toolbar and add the figure you are looking for. If the figure is in this report it will be located.
But, if you still not locate the Customer, we recommend that you do a Cashbook Receipt coded to the Suspense Account (You can save the Receipt to use it again).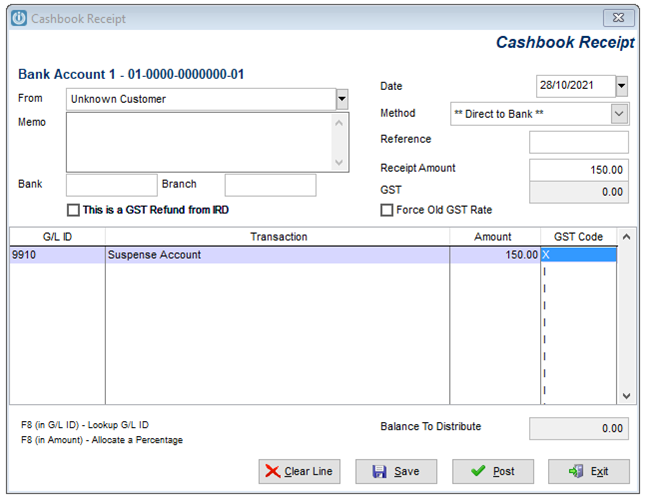 This will allow the bank rec to be reconciled with the payment.
When the Payee is identified, go back to the Cashbook receipt screen and recall the Unknown Customer record. This time enter the transaction as a negative and post.
Record the receipt against the correct customer.
The negative cashbook receipt and the customer payment will then match each other in the bank rec. So the net effect here is zero.