The Entered By field in the software is populated automatically with the signed in user, this shows at the top of the screen.
If Companies want to record the actual staff member who is creating an Invoice or Quote, and not have the transactions recorded as Staff, POS or Workshop this can be done. In the Customer Defaults under Invoices is a flag to Prompt for Staff Code before accessing Invoices / Quotes
Once this is ticked, the Select Staff Member prompt will appear before the select Customer screen.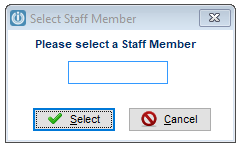 The Invoice will then record the initials in the Entered By field.