Customer Special Orders are the ability to order products from a Supplier and charge the items directly to the Customer when they are receipted into the system.
This order type is available in the system when selected from Admin / Defaults / Manage Supplier Defaults and select Allow Invoicing Direct to Customers
When creating a new Purchase Order it will appear as Customer Special Order
Enter in the Purchase Order as usual, but it can only contain Product Codes that are to be supplied to the selected Customer.
Select the Customer Button on the top left to select the Customer that the items will be charged to.
Note the type of order at the top of the screen.
The Sold By and Their Order number can be entered at this point.
At the point the products are received into stock and the Process button is selected, a prompt will appear warning that an invoice will be created for the customer.
A further prompt will appear giving the Pending Invoice number.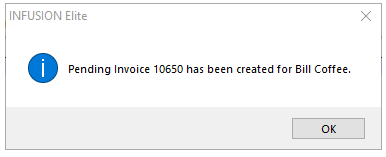 This is followed by the option to print the invoice. Once this is done, remember to post the pending invoice.
Points to note: The above steps occur on the receipt of the stock, so when the Supplier Invoice is entered there is no detail regarding the Customer Special order or the number of the Customer Invoice. It is recommended that you write the Pending Invoice number on the Packing Slip. Ticket 11620 will deal with this in an upcoming upgrade.