To use Infusion from the Hosted Server you will have a new Icon on your local Computer's Desktop
By right clicking and selecting Edit, the Username will identify which user you are. If you call Infusion Support, we may ask for this.
Close this screen and double click to enter your password and connect to the Hosted Server.
Using Infusion on the Hosted Server
Once on the Hosted Server you will see the shortcut for Infusion or SPROCKIT™ .
This is where the program now runs from - just the same as it did from your old server.
Infusion Business Software does not record which users are assigned to each Hosted Server Username.
A lockout feature is in place and after 3 wrong log on attempts from one IP Address, ALL users will be locked out of the Hosted Server. The Unable to connect to the Hosted Server screen will appear.
Switch To..
This message may appear after logging on to Infusion, when trying to access a module, wait about 20 seconds and select Retry.
Session Timed Out
When a Hosted Server connection has not been touched for two hours, it will automatically be disconnected. Please remember not to leave unsaved transactions on your desktop.
Saving Microsoft Files
"This app has been blocked by your system administrator"
If you are not licenced* to use Microsoft programs on the Hosted Server, this message will appear after saving any Reports to Excel. The file will be created, but will not be able to be opened. We recommend that users, save to the Hosted Server desktop or in a sub folder and copy to your local computer. This will avoid any problems. If this is not working check Making Adjustments to a RDP Connection *If you have Office 365 Enterprise E3 or E5 this can be linked to the Hosted Server to allow the use of these programs.
Printers
All printers will have been set up when the Company signed up to the Hosted Server, but if any new printers are added please call Infusion Support to have these added to the Hosted Server. Our preferred option is to have Printers Networked.
We do not support redirection for Label printers - they must be Networked.
If the print preview is not displaying correctly, please see Reports not Displaying Correctly
Printer not working?
Shut down Infusion and Sign Out of the Hosted Server session then reopen. The printer should work again. If it does not, call Infusion.
Backups
The Hosted Server is backed up at about 7pm and this is kept for approximately 28 days.
Previous Versions backups (made at 7am and midday) are also available but only go back 15 – 20 days depending on the number of users and the amount of data involved.
When prompted to do a backup for GST, End of Financial Year etc these must be done. Please see this article Backup Prompts When using a third party backup solution
Infusion backups should be copied to the user's local network rather than being kept on the Hosted Server as charges for use of additional disk space may be incurred.
The Hosted Server does not keep a copy of your data forever, Users must do Infusion Backups and copy these to the local computer.
Logging off the Hosted Server
Shut down (Exit) Infusion
Select the Sign Out Icon on the desk top
Or, select the Windows Icon in the lower left of the screen, following the screen shots to Shutdown then Sign Out from the Hosted Server.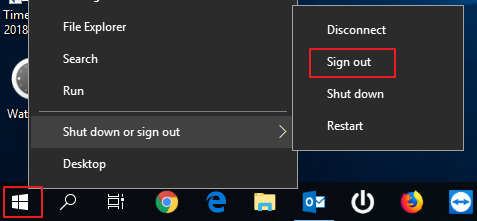 This needs to be done correctly each night.
Troubleshooting
Unable to connect to the Hosted Server? Check from the local desktop on your computer to see if you are able to connect to any internet site.
No, then you have an internet issue.
Yes, if you are are receiving a message saying the site you are trying to connect to is currently unavailable, check again in 10 minutes. If it is down for longer than this call Infusion Support.
Remote access to the server is not enabled
The remote computer is turned off
The remove computer is not available on the network
Terminology
Hosted Server - Cloud
Local Computer -The Computer being used to connect to the Hosted Server
Local Desktop - The Desktop (where all of the icons are including the one for accessing the hosted server) of the local computer
Hosted Server desktop - The desktop where Infusion or SPROCKIT™ is now running from.