For users that have a third party system that takes care of the software backups, like Keep it Safe, arranged via an IT Company or a Server Back up, or on a Hosted Server they should be aware that these these do not prevent the Software from prompting for backups at various points.
Please complete an Infusion backup as warned. DO NOT rely on the third party software in these cases. Their backups are run on a set schedule, if you preform one of the tasks below and have a problem and need to restore from a backup, the most recent one may be from the evening prior.
Financials / Year End / Close Off Financial Year
Most importantly a backup needs to be done when closing off the Financial Year. Most Third Parties only keep the Backups for a set period of time. Create a folder for Year End Backups and label each backup appropriately eg March2018Closeoff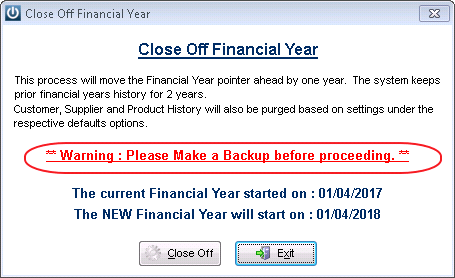 Admin / Import Data
Admin / Reindex
Cashbook / GST / Close Off GST
These are examples of some of the warnings that appear, but not all of them.