Windows 10 allows display scaling which means everything appears bigger on screen.
This scaling causes issues with previewing and printing reports. This is because the report previewer will attempt to scale the report output, usually this means the right hand side of the report is cut off.
To check your scaling:
Right click on a blank area of your desktop
Select Display Settings.
Check the Scale and layout section.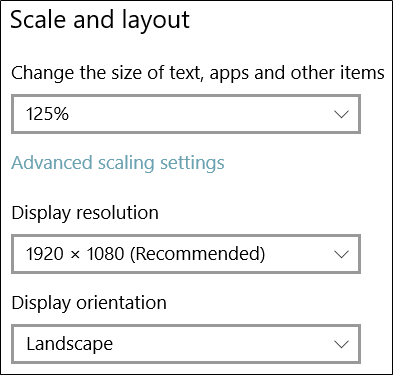 You can either return your scaling to 100% or exclude the Infusion programme from this display scaling.
To Exclude Infusion from Scaling:
Open the Infusion folder, right click on ibsmain.exe or (Sprockit.exe for the Sprockit users) and select Properties
Click on the Compatibility tab
On Windows 10: select Change high DPI Settings, tick Use this setting and Override high DPI scaling behaviour.
On Windows Server 2016 (eg. Hosted Server Environment): Tick Disable display scaling on high DPI settings
Click OK
Sign out of the Hosted Session and /or reopen Infusion.
Infusion will now ignore the display scaling and reports will print correctly.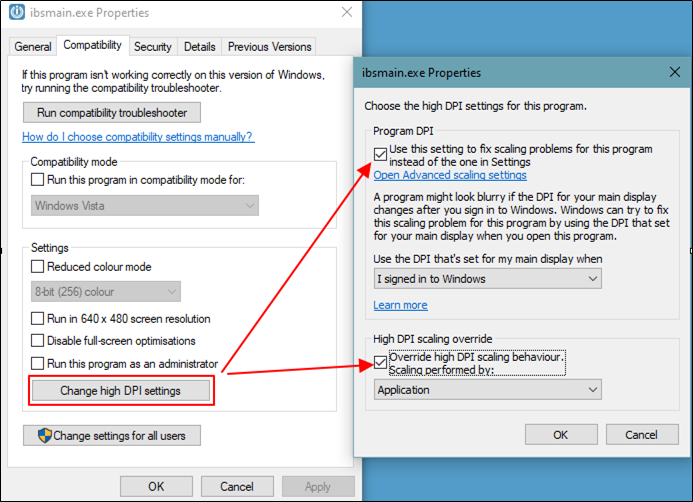 Please note: The notes in Jobs will display slightly smaller when this setting is implemented.
Formerly Windows 10 display settings article