Introduced in Version 8.450 is the Bulk Reprint / Email Customer Invoices Utility
Located under the Invoices/Quotes menu the Bulk Reprint / Email Customer Invoices Utility allows users to generate an invoice that does not have the word Copy recorded on it.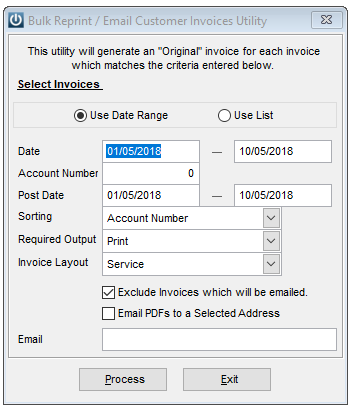 The output can be direct to the printer or to PDF, with the option of creating a single PDF document including all invoices which can then be emailed.
If the required output is printing, tick the box Exclude Invoices which will be emailed.  Run again with the Required Output as Individual PDF's to select Invoices that will be Emailed.
The Invoice Layout will default to the Layout that is set up under Admin / Layouts / Manage Invoice Layouts.  But can be changed here if necessary.
By ticking the flag and adding in an email address, users can send the Invoices to a third party.
The Utility will work by Date Range, Account, Posted Date Range or a list of invoices
If the Use List option is selected, the main screen changes to remove the Date Range Selection.
Once the Process Button is selected, a prompt will appear detailing how many invoices are being printed or emailed. 
If this is not correct users have the ability to select No and start again.  Yes will proceed with the Reprinting of the Invoices.