Can I add Interest to Customers prior to running the Statements?
Solution
This is easy to do once the defaults are in place. 
Check that the Admin / Defaults / Manage System Defaults are going to the correct GL Code.
On the Customers Account Application was there an Interest Rate that was agreed? This should be entered under Admin / Defaults / Manage Customer Defaults.
On each Customer Account under the Terms/Pricing tab is the option to select different Finance options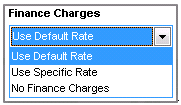 If use specific Rate is selected then an amount can be entered
Once the setup is done on the Customers, the go to Customer Finance Charges
Enter the selection parameters and prepare.
From this screen all transactions can be selected, some accounts left with no Interest by not tagging.
Or the Tag by Dollar can be used feature can be used, enter in the minimum dollar amount to be applied.
Interest will not be charged for under that amount
 Print the report before processing.
The Statement message can be changed if required.
Process.
If Interest is not paid by a Customer please see How Do I Credit a Finance Charge