Giftcards do not incur GST, but when they have been set up incorrectly the following steps will allow the GST claimed be reversed.
See Giftcards or Vouchers for set up instructions. Once the product code is correct, open the Enquiry Screen and right click on the Invoice and view the Audit.
In the G/L Transaction File (fintrans), you will see the GL Codes used in this transaction.
Go to Cashbook / Enter Payment and create a new zero total payment as below.
If there has been more than one sale of giftcards, you can combine the totals.
On the first line, select the GL ID that the sale went to (2110), and enter the total amount of the Gift card as a positive – in this example $100.00.
On the second line, use the same GL ID and enter the value as a negative and change the GST Code to X.
The first line is reversing the GST that was initially claimed, and the second line is recording the correct transaction.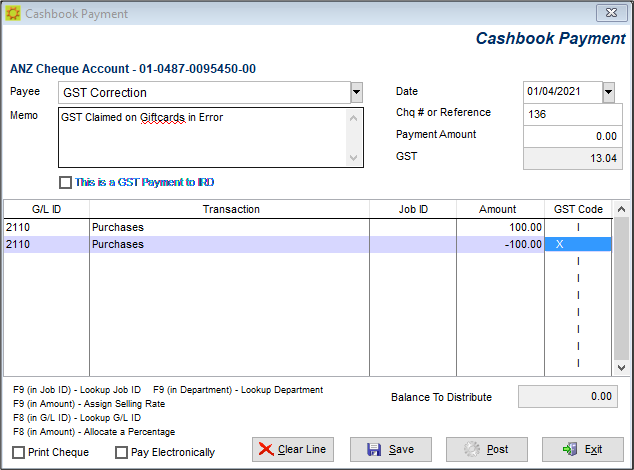 The value of the transaction is zero but the correct GST now flows through to the GST report.