These instructions are for internal Giftcards or Vouchers. For those redeemed via the Eftpos Machine see Selling a Giftcard setup
Setup
The setup of the Product Code for Giftcards or Vouchers should ensure that the GST settings are set to Exempt

The GST is claimed on the goods when the Voucher is redeemed. If the product code has been set up with GST, see Correct GST Claimed on Giftcards.
Selling a Voucher
The product code is entered and the rate is changed to reflect the value, note no GST should appear.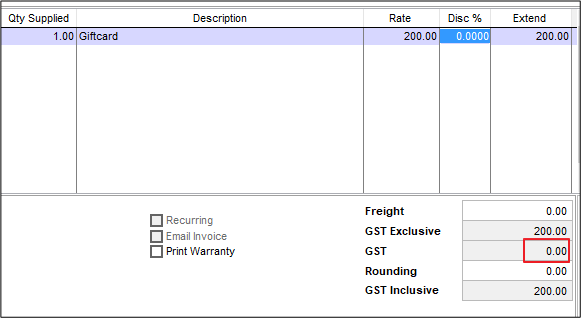 A prompt will appear
Select Yes
Redeeming a Voucher
To redeem a Giftcard, enter the products being purchased as usual
With the voucher as a negative quantity supplied, and the rate being redeemed entered, process the invoice.
Note how the GST remains the same,
Please see GST Guide IR375 for further information