I have an amount showing on my Undeposited Banking Report, how do I move it to my Bank Account?
Solution
The Undeposited Banking Report, found under Cashbook / Reports / All Undeposited Bankings will detail any transactions that have not been deposited into the bank.
If more than one bank account is used, the relevant accounts will be in bold with the Banking Type in Bold and underlined and then the method beneath.  As shown in the report above.
If we go to Cashbook / Prepare Bank Deposit, Select Bank Account 1, Select Banking Type Daily bankings we will see the Cheque and Cash transactions.
By leaving the date as today it shows all transactions
Simply tag the required transactions to move to the Bank, enter a reference if necessary, there is an option to print the Banking.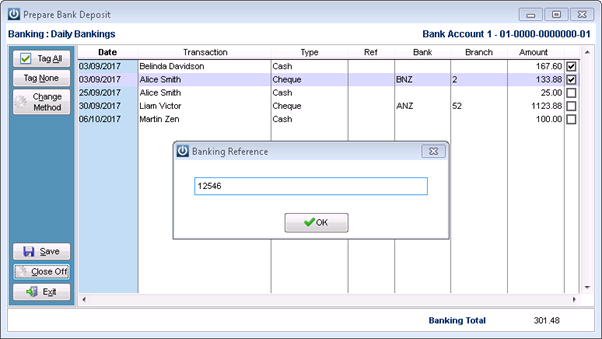 and these transactions will move from the Prepare Bank Deposit screen into the Bank Reconciliation screen.
This process can be repeated as many times as necessary to clear the report.