The primary and secondary search will only search specific fields on the Products screen (Code, Description and Primary Barcode), see Searchplus Column
The ability to add a Text field to the searching has been added in Version 9.106.
Setup
The Text Field to be searched is activated by going to Admin / Defaults / Manage Product Defaults and under the Custom Field tab select the relevant Text Field
Once this is saved, a Reindex should be run to update the SearchPlus information.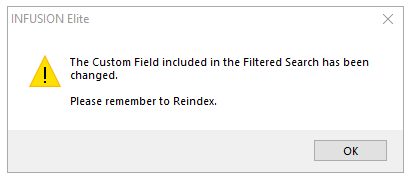 Searching
After the reindex, either the Primary or Secondary search will locate the information in the Text field.


Note: Text 1 and Text 2 are the only two text fields still visible as columns in the Products Management Screen. Including any of the other four Text fields into the Filtered Search process will not make that column visible in the Product Management screen. This change does not make the already visible columns Text 1 and Text 2 searchable either.