Please Contact Infusion Support or your Partner for the installation of this Utility. While the Utility is free, you will be charged the installation. Importing Kitsets Installation
Importing Kitsets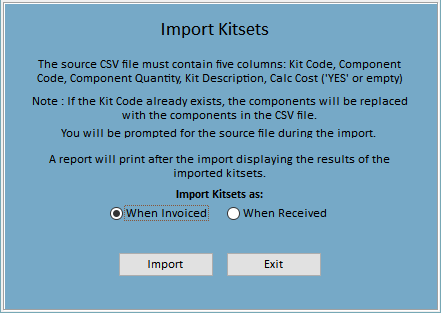 You will be prompted for a file – it must have 5 columns:
KITSET CODE: Can be new or existing. If existing and a kitset, all components will be deleted and replaced by the importer.
COMPONENT CODE: This product code must exist in Infusion. If it does not, it will not be added to the Kitset and will report as "Components that could not be imported"
QUANTITY: The number of each component to add to the kitset.
KIT DESCRIPTION: The description of the Kitset parent code. If the product already exists, the description will be updated.
CALC COST: The Calc Cost flag should be either "YES" (the kitset will have its costs calculated as part of the import) or leave the field empty to not calculate the cost.
The user selects whether the kitsets are imported / updated as When Invoiced or When Received.
The components must exist in Infusion already. A report will be generate to show the kitsets that have been imported and any that have not.