The system allows you to import transactions directly from your Internet banking or banking software thus removing the need for data entry and reducing the opportunity for mistakes.
These will be available on your internet banking screen as OFX, QIF or CSV.
Transactions can be imported from all major banks and Credit Card companies. When they are imported the system runs through a number of pre-defined rules to determine if the transaction should be
Coded directly to a GL Account
Processed as a Customer payment
Processed as a Supplier payment
Any transactions that have already been enter into Infusion eg Daily Banking, Eftpos transactions and Direct Credits will need to be deleted to prevent duplication.
Transactions that can't be matched to an existing rule will be held and either await a new rule to be created or coded manually.
To Import Bank transactions - Cashbook/ Import Bank Transactions
and select bank account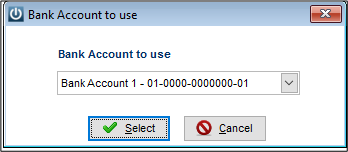 Once you select Import you then need to select the matching file format.
The system will then prompt you to locate the downloaded file on your network.
TIP: Create a folder under the Accounting \ Infusion called Bank Downloads and save each downloaded file in there.
Once the file has been imported select Process. The system will go through the transactions and code the ones that match the rules already setup.
Transactions that can't be matched will need to have rules created for the first time they are processed. The system will then retain the rule for further processing. See Bank Import Rules
Payments to Customer and Supplier accounts can be set to Don't use Auto Pay. If this is selected the system will create an unallocated payment which must then be manually allocated.
Rules must be contain more then "Acc", this could also include words like Account, Accountant, Accommodaton, Accident etc. See Bank Import Rule going to the wrong place.
Do not import transactions that have been processed within INFUSION already eg Supplier Payments, Cash Sale Transactions or bank transfers.
If the transaction is a one off select the Code To option and process the one line.