If a large amount of stock is being written off, or the value of the stock being adjusted you can create a journal so that this value is visible in the Profit & Loss instead of just being included in the Closing Stock figure.
In the first example there is no explanation for the drop in stock value and ensuing $2,000.00 Gross Profit / Loss.
In the second example there is an explanation for the missing stock, the Gross Profit is not affected but we can see an expense line in the Profit and Loss to give the same Net Loss of $2,000.00.
The Cost of Goods Sold General Ledger code has been Credited and the Expenses code has been Debited.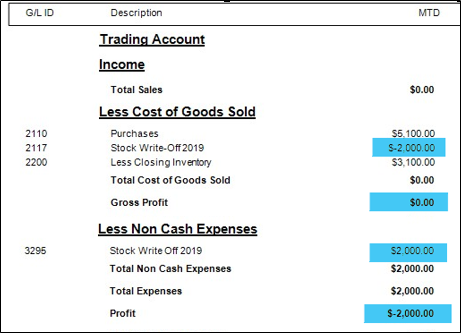 Consult your Accountant for further assistance on how to account for a stock write-off in your Profit & Loss.