In Version 8.470 a new option to Show on order products in the Job Maintenance Screen has been added. This is a default that is turned on during the upgrade process, BUT can be unticked in Admin / Defaults / Manage Job Defaults.
When an Order is created and the JOB ID is added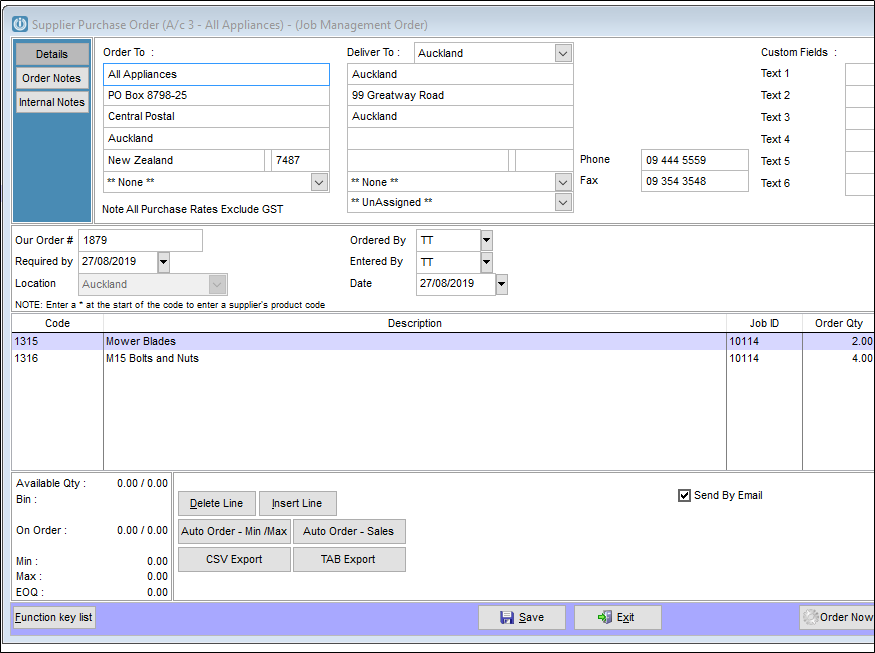 The Job will show the Red Order Button still, but it will also add the Ordered Products to the top of this screen.
A new column in the Job will show, O for Ordered at the and the product itself will show with the O ticked.

Receipt of Products
When products are receipted on the Purchase Order, the Ordered lines on the Job will either:
Display the remaining Quantity to be receipted with the status updated to "Part Fill"; or
Be removed from the Ordered section, if the full quantity of the order is receipted and added to the body of the Job..
Right clicking on the line in the Job while in the shaded state will:
Open the Purchase Order, from here the Products can be receipted against the Packing Slip. Supplier Invoices currently cannot be receipted from this menu.
View the Original Document or the Audit.
The usual sorting is available by columns. Saving and reopening the job will restore the sorting of the Job with the lines from Purchase Orders to the top of the screen.
Also see Negative Order Quantities on Job or How do I see a completed purchase order on a job