A Job can be made in to a template Job by ticking the Template Job option at the bottom of the job A jA Job can be made into a template Job by ticking the Template option at the bottom of the job screen.

As soon as the Template flag is ticked the Customer Account details are removed.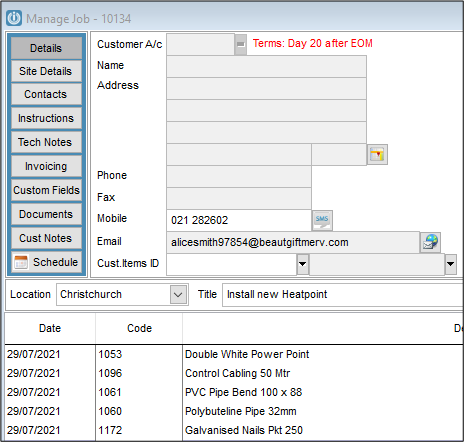 It is recommended that a Status called Template is created and used for these Job Types.

Save this job.
To use the Tempate Job
Select Duplicate from the menu on the left.

A prompt will display asking if you wish to make a duplicate of the job.
Enter in the Customer Account number and there are tickboxes regarding updating costs. This is recommended. You want to be using the latest costs for the products.
Selecting Copy will open the new job, with the same Status (Remember to change this), Title, Instructions and Products. The duplicated Job can be set to be a Template Job as well if the Create New Job as Template option is selected.
If a Quote is attached to the Job this can be duplicated by selecting Duplicate Quote. Costs on the Template Job can be brought over to the duplicated Job by selecting Duplicate Assigned Costs. The date these costs are assigned to the Job can be set by selecting Date of Costs along with the Location they will be used from. Selecting Reprice Costs and Quote will use the new Customer's Pricing Level and current Product cost prices to update Cost and Quote values.
The new Job is now ready to be used with all of the new Customers details on it.