What do the Status options mean in the Manage Purchase Order Screen?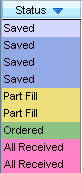 Saved: The order has been created but not sent to the Supplier.
Ordered: Order sent to the Supplier.
Part Filled:  Part of the Order has been received.
All Received:  All products have been received but the Suppliers Invoice has not yet been entered into the system.
Completed:  Order is fully completed ie All Products received and invoice processed.
When Include Completed, Include Invoices and Include GL Invoices are ticked the you can see the Invoice details, but you are unable to open the Supplier Invoice from here.
Invoice: Shows all of the invoice numbers relating to the purchase order.
Invoice - GL: A Supplier  New Invoice (No Products)