When I open my Financials module I have **Auto Created** or Autogen General Ledger (GL) Codes that have numbers or letters that are not relevant in my system. 
Solution
These appear in the General Ledger when no codes have been entered or the incorrect codes have been used.  To get a full list go to Financials \ Utilities \ Check G/L Integrity
You will get the GL Chart Check Exceptions report that will list the Auto Created accounts.
They are very easy to deal with. Simply drill into them to see where they have appeared from and repair to prevent this from happening again, eg it may be from imported data or a product with an incorrect G/L code.  Once you know what they should be go to Financials \ Utilities \ Swap GL ID's. Run the Integrity Check again after they have been swapped.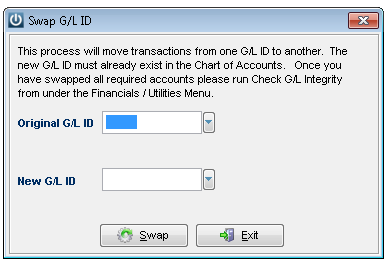 Blank GL ID's need to be repaired in Command Mode by Support Staff or Partners.