Introduced in version 9.100, when the Serial number history is selected, it will show the serial number in red. This is to indicate that the product has been entered to a job and not yet invoiced.
If the Sale Info button is selected for the red serial number, a prompt will appear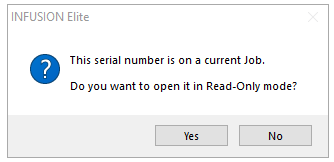 If a serial number is assigned to a Pending invoice, this will not show in the Serial History screen.
If the serial numbers are showing in red
and when you select Sale Info, a prompt relates to a Pending Invoice
When the Invoice is opened in Read Only Mode, and a check it shows that the invoice is posted.
This is because the product is ticked to allow multiple serial numbers.