I am trying to save a Excel Spreadsheet and it has come up with a message that says
Problems During Load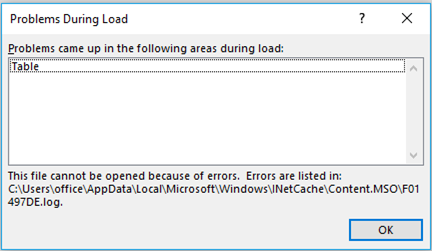 I press okay on the Error message and I get a blank Excel sheet and restarting my computer does not fix this, I get the same message.
Solution
Have you looked at the location the errors are listed in? 
C:\Users\Office\AppData\Local\Microsoft\Microsoft\|NetCache\Content.MSO\FO1497DE.log
App Data is normally part of the hidden files of Windows.  Go to the View tab and tick to show hidden items.
If you don't have that option or you can't use it, permissions may be blocking you and you will have to speak to your IT people.