Setting up the Capricorn Customer Account
Capricorn would need to be set up as a Head Office Account with each Capricorn Member Number of the Sub Account used as the sort key. The sort key can be manually overridden, please see Admin / Defaults / Manage Customer Defaults and untick the flag.

Exporting the Invoices
The installation of the Capricorn Export is done by Infusion. Once this is done, it is available going to Import/Export and selecting Capricorn Invoice Export.
A prompt will appear asking if you wish to proceed.
If the configuration has not been set up, the user will be prompted to do so.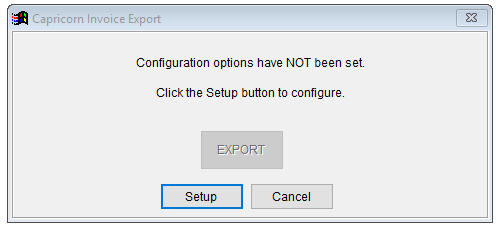 When running the export this screen will appear, with the date, Head Office Number, Sort Key,and export path.
A CSV is created and Capricorn install CAPLINK which picks up the file exports it.
Resending the Export
If the export is not sent, it can be processed again by looking in INVIDX and setting FSEDI to zero for the relevant invoices. 1 = exported