When the Integrated EFTPOS system is used in Infusion, the receipt data is stored in the table EFTRCPTS.DBF - in the field or column RECEIPT.
When an Invoice, Rental Hire or POS docket is printed or reprinted that receipt information is available to be printed from the public variable
nzf_eftreceipt.
The receipt data looks similar to this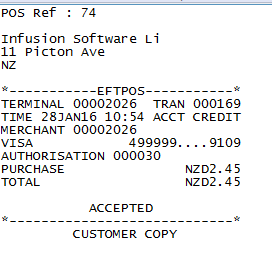 It must be printed using
Courier New   8pt and Bold.
Look at POS05 or POS06 layouts in 8.400 as a sample of how to set it up