Cash Flow Forecasting
Cash Flow Forecasting has been introduced to allow users to project their expected cash position at the end of each month for the forthcoming 12 months.
 The Cash Flow forecast is based on a number of key data points:
The current balance of the Bank Accounts

The current balance of Customers and their ageing

The current balance of Suppliers and their ageing

The financial budget

The expected percentage paid to Suppliers and received from Customers
Cash Flow Forecasting Set Up
From the Admin / Defaults / Manage Cash Flow Defaults set the percentages for your Customers and Suppliers. These figures should reflect, as a percentage:
1) How many of your Customers pay their bills in the month of issue, 1 month, 2 months or 3 months and over.
2) Payment of your Suppliers - are paid in the same month, what percentage are paid the month following, 2 months and 3 or more months.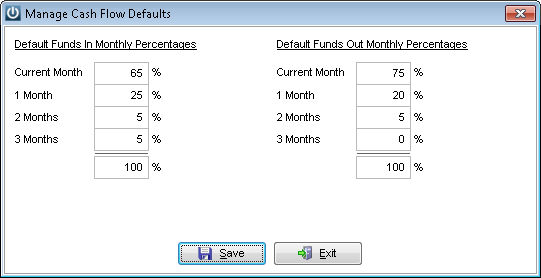 Each of our inwards / income and outwards / expenses cash accounts needs to be assigned to be shown either individually or associated with a Cash Flow Group.
The standard Groups will use the percentages set in the defaults. Income and Expenses that are received or paid in one month? We can now set up a Range of Cash Flow Groups to cater for these:
From Admin / Settings / GL Cashbook / Manage Cash Flow Groups
 Infusion already includes some groups that have been pre-created, but these can be edited or deleted, and new ones can be created to suit.

 Here are few examples of how to create groups:
Select New
Create a new Group for Funds Out – Administration.

This Group will be used for Administration Expenses incurred and paid in the same month such as Bank fees or charged

Select Save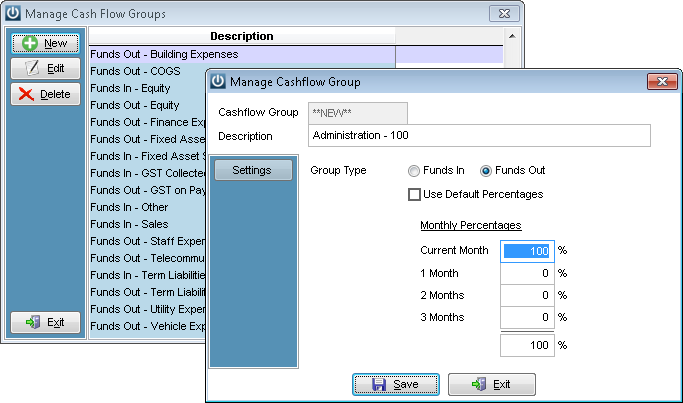 Select New
Create a new Funds Out Group called Wages.


As Wages are paid in the month which they are budgeted for we will allow for 100% in the current month.

Unselect Use Default Percentages
Enter 100 % into the Current Month
Select Save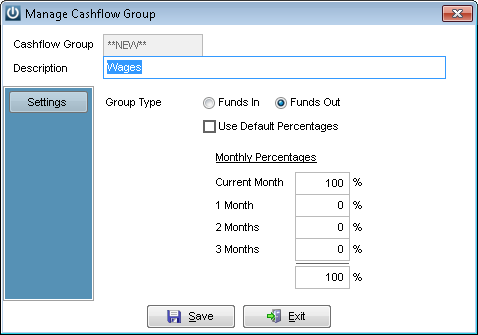 Select New
Create a new Funds Out Group called Loan Payments.


Loan payments should also be set up as with 100 % for the Current Month.

The same process should be followed for all payments made in full each month.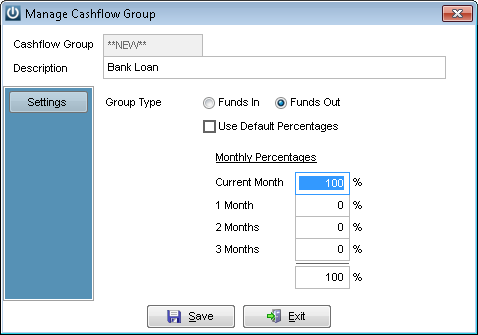 Each GL ID affecting cash needs to be set up to be shown:
1) individually in the Forecast
2) as a member of a Group
3) None (which will be excluded from the report).
Accounts shown individually or as a member of the standard Groups will be calculated using the percentages set up.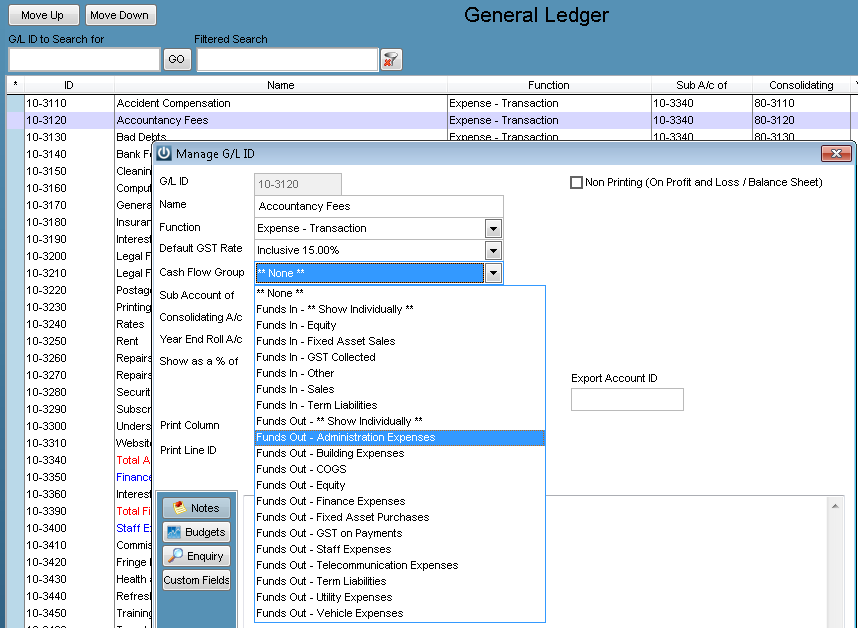 Balance Sheet accounts affected by Cash transactions need to be set up. These include:

Bank Loans

Sale of Assets

Shareholder Drawings.
The next step is to make sure that you have a Financial Budget is setup for the current year along with next year.
The Cash Flow Forecast is a rolling 12 months and therefore will cross over financial years.
Cash Flow figures for the Balance Sheet items can now be entered into the Manage Budgets screen. Balance Sheet accounts are blue.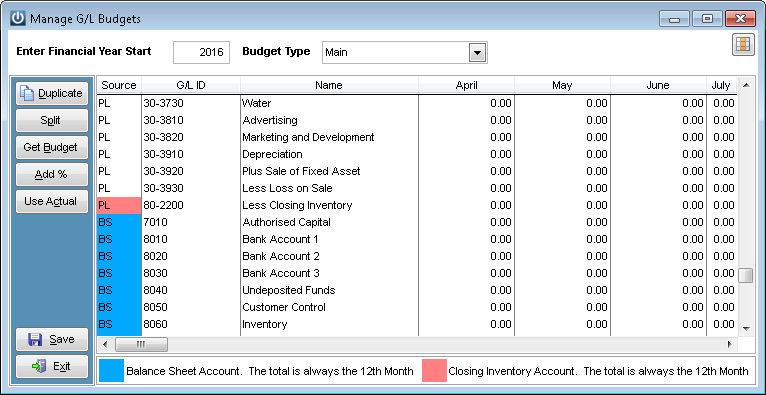 Liability Payments such as a Bank Loan or HP Payments need to be loaded as a negative value in the budget.

Load your Overdraft Limit under the GL ID for the Bank account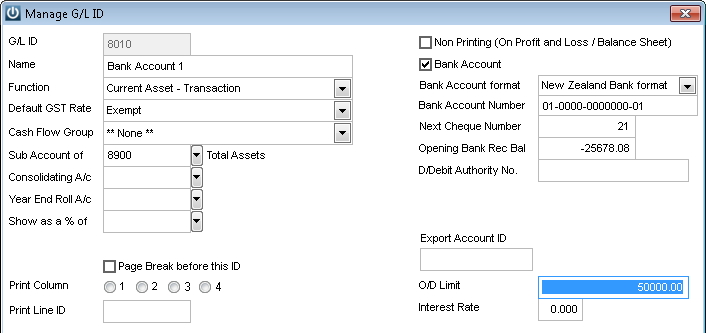 Creating a new Cash Flow
To create a new Cash Flow  go to Financials / Cash Flow Forecasting / Create
Give the Cash Flow a Title

A Start Period

A Budget that will be used

The date actual figures (as opposed to Budget figures) will be use up to 


Infusion has now created the base for the Cash Flow Forecast
Manual adjustments can now be made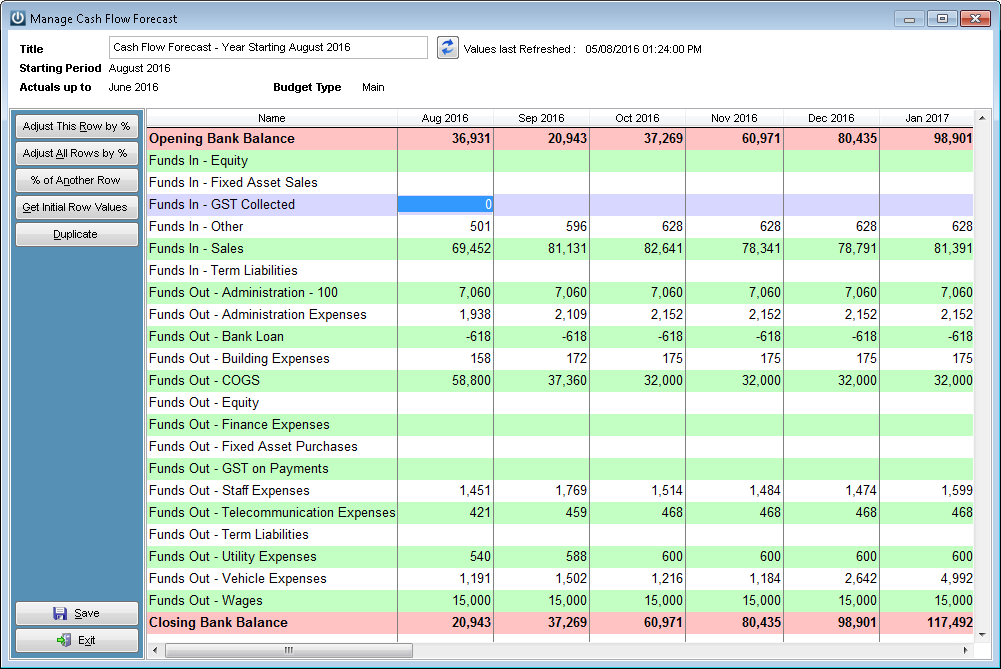 As the Budgets are all GST Exclusive we need to allow for GST.
On "Funds In – GST" highlight the first cell and select "% of Another Row"

Select "Funds In – Sale"

Make it 15%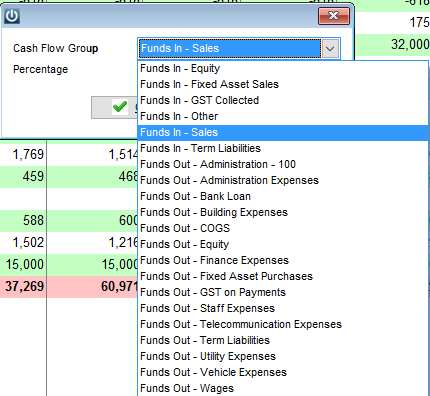 The system has now calculated 15% for each month. The figure is underlined indicating that it has not come from the Budget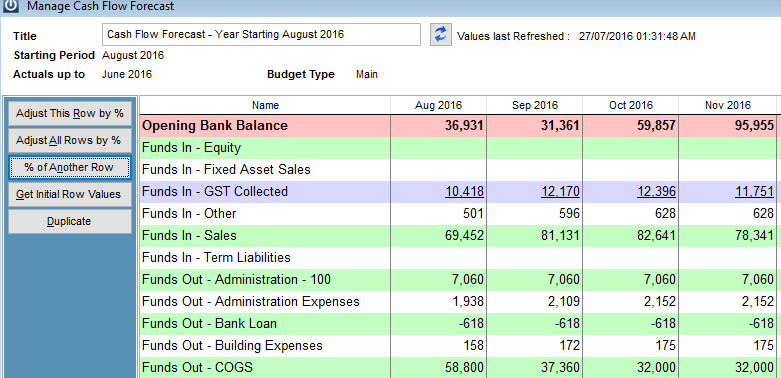 Right Clicking on a cell in the report will give you a breakdown of where the values have come from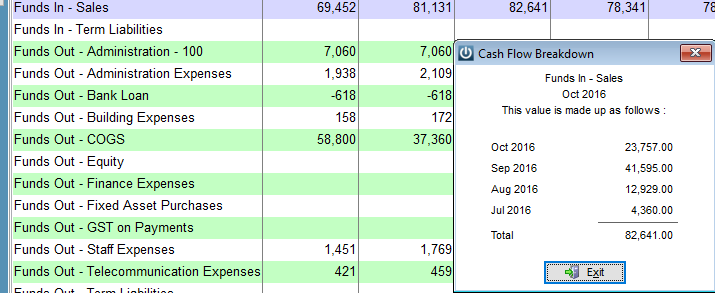 You may also manually enter a value or one of the calculated values.

Cash Flow and Budgets are not prepared overnight and values will change. Use the Refresh option to update the Cash Flow Forecast that you are working on.
When using this option Manual Adjustments will not be reset. The system will just refresh the values from the Budgets and Actuals.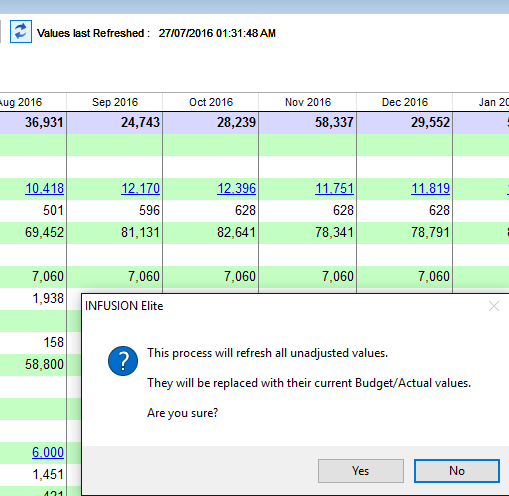 The Cash Flow Forecast setup screen has a number of other functions:
The ability to adjust a row by a %

Adjust all Rows by a %

Get initial Row

Duplicate.

Once you are happy with the Cash Flow save it and print it.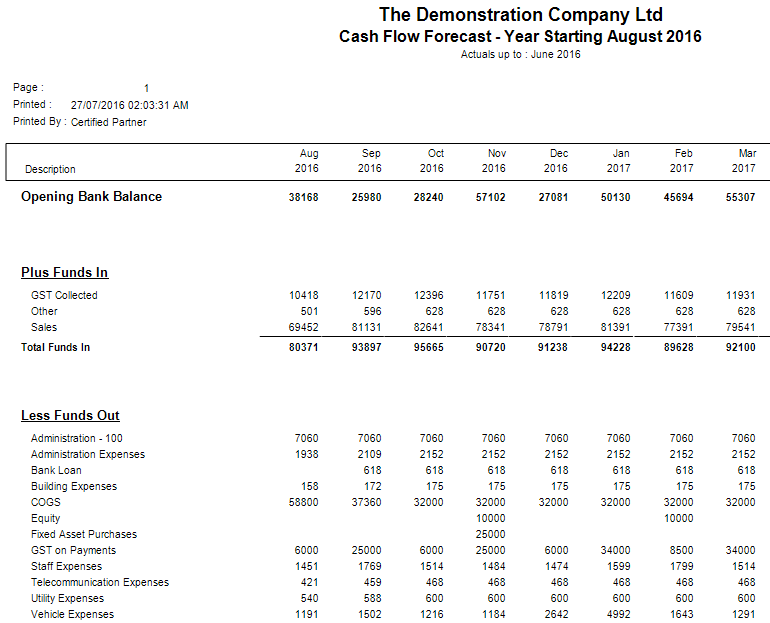 The report will show the expected available cash at the end of each month taking into account Overdraft Limits.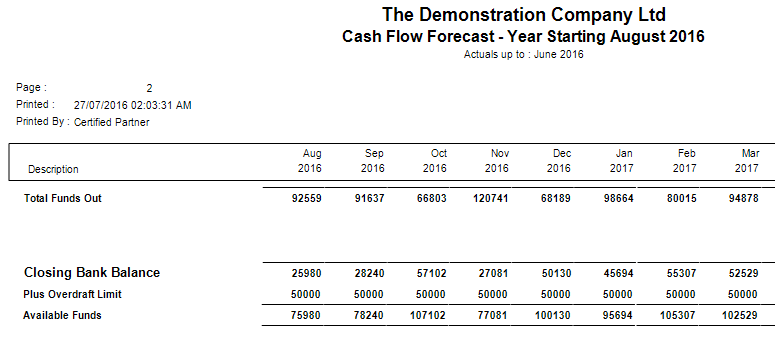 Tag: Cashflow