Adding new General Ledger Code is an easy process as long as you have the necessary information. You need to know what type of account to be added and its position in the chart, is it Income or expense, and what the Default GST Rate should be?  You may need to consult with your Accountant first if you are in any doubt about these details.
 To create a new G/L Code:
Go to the Financials / Manage G/L ID
Click on the asterisk column to ensure you are sorting in the order your reports print (this is recommended so you add the code to the exact place where it will be in the printed reports).
Scroll until you find the position where you want to insert the new code and then click create or duplicate.
For example, if you want to create a G/L account of 1055 that will sit between 1050 and 1060, highlight the line of code 1050 then select Duplicate to replicate exactly the original Code. Enter the G/L ID of1055, change the name of the account and if your other details are correct select Save.  (If the Sub Account is not set you will have an Error on this GL ID when you run the Financial Integrity Check)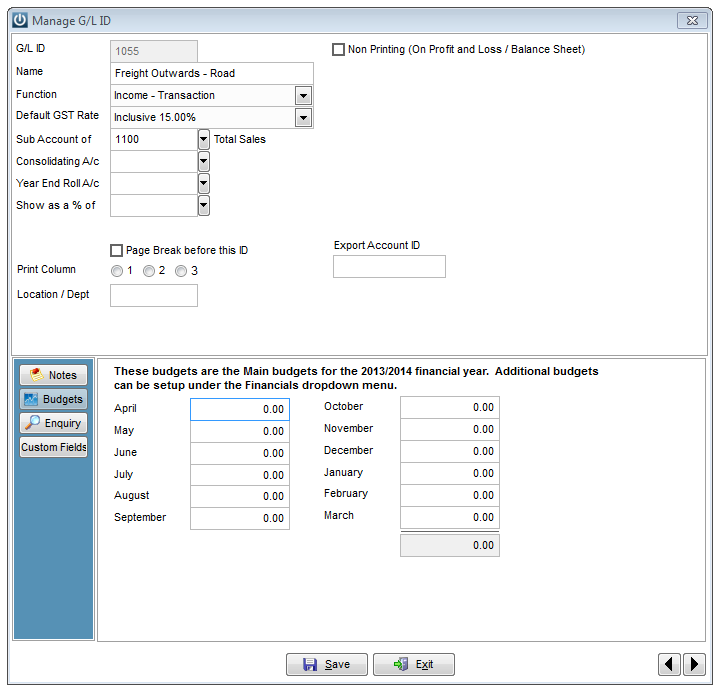 You can use the Move Up and Move Down buttons to reposition the code on the list if necessary. These will only display when the * column id highlighted.