Purchase Order - Auto Order By Sales, and the calculations used for quantity to order.
Setup
Settings which give further control over the Auto Order of Products are found in Admin / Defaults / Manage Supplier Defaults > Orders
If the "Select Products set to Preferred Supplier for Auto Order" setting is ticked, then the software will always assume that an Auto-Order is only to select products that have the nominated Supplier as their 'Preferred Supplier'. If this is not ticked then the software will select any products that can be supplied by the nominated Supplier.
The "Use EOQ for purchase order auto-orders" setting is to be used in conjunction with the Auto-Order – based on Min/Max.
Use
Open a purchase order for the selected Supplier and at the bottom of the screen is an option for Auto Order - Sales
The Auto Order – Sales buttons allow the creation of a Purchase Order for all Product that can be purchased from the selected Supplier. The order will be calculated based on the qty sold over the entered date range.
You can select to calculate your order based on yearly sales or a 30, 60 or 90 day option.
The Auto Order – Sales screen displays the Product Code, Description, Bin Location along with the Landed Cost, Freight Cost, Latest Cost, the product Ratio, EOQ, Min and Max Product Holdings.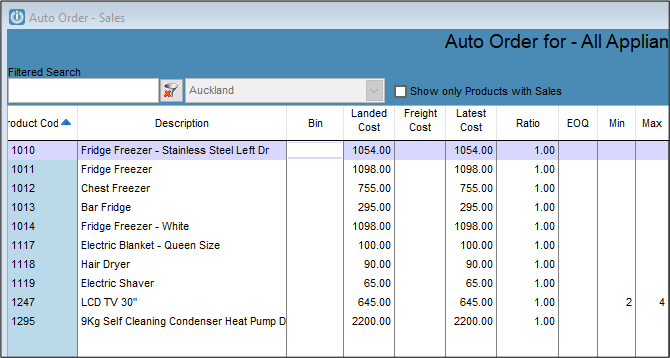 The On hand, On order, On Saved, Back Order and Allocated are then displayed.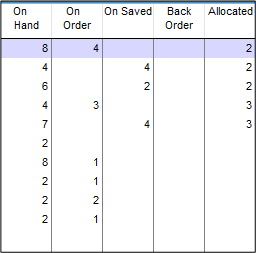 The next section then displays the Sold Value, Quantity Sold and Sales over Last 30 Days, Last 60 Days and Last 90 Days.
This is then followed by the monthly average and the lead time for this product line.
The system will then produce a figure which it considers is the recommended quantities to order. You can amend the quantity to order by changing the to order value.
The Top Right of the screen will display the Total Weight, Volume and Value of the order - information which is useful for managing shipping container loads of product ordered. It also has the grid that will allow the altering of columns and enable you to send the order to excel.
The bottom Right of the has the option to clear the order values, update the Product directly with Min/Max or Bin Locations, Update the Economical Order Quantities and to create the order.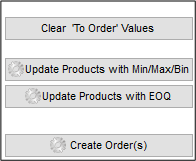 The complete screen.
The Purchase Order Manual found under the Help menu from within the software will give additional information.
Updated 8.525
The Auto Order functionality has been improved to include quantities on Saved Purchase Orders in the calculations.
The ability to use the Auto Order option multiple times in a Purchase Order has been removed.
Once either of the Auto Order buttons has been selected, the Purchase Order is tagged as an Auto Order Purchase Order and from this point on the Location cannot be changed.