When running a reindex I get a screen that says Duplicate Products by Location Found. What does this mean?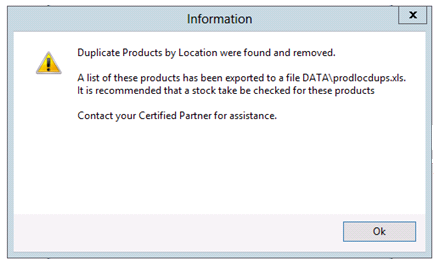 Solution
While running the Reindex the system has found Product Codes that have duplicate location records in the PRODBALS table, and removed them.  While doing so it has created a file in the Infusion DATA folder called prodlocdups.xls. 
We recommend that you print this file out and check the onhand quantity of each product  listed.  It may be necessary to preform a single item stocktake for each listed product, to bring the product quantity to the correct level for the deleted location. 
The most likely reason that this has occurred is that, at some earlier point, the product was deleted from the PRODUCT table but not from PRODBALS. 
Another possible reason was there was an issue within the Job Management module. This issue was resolved with the introduction of location for Staff.