These instructions are not for replacing the Stihl Disc Supplied to Stores.
Please check that this Interface is not already in the INFPROGS folder
To install the SPROCKIT™ Catalogue Creator Interface, if adding to an existing network, start from *
You need to be logged on to the computer that the STIHL Communication package has previously been installed on by the user. Close this programme – it is the
icon on the tool bar and needs to be logged out and closed.
From \\DEVSRV\Software\VFP\Installers\Stihl Catalogue Creator Sync Setup transfer into Infprogs on the Server.
Open SPROCKIT™ to check the Stihl Supplier Account and the Data Path – Screen shot.
*From Infprogs right click and run as Administrator.
Next
Leave as this path – it is directed to the Local Computer.
Next
Next
When finish is selected the screen below appears.
Enter in the Supplier Account number
The Interval between Extractions – 360 minutes should be sufficient but this can be changed.
The Data Path, you can double click in this field or type in the path if necessary.
The path to Extract to will be as below, you can navigate to it.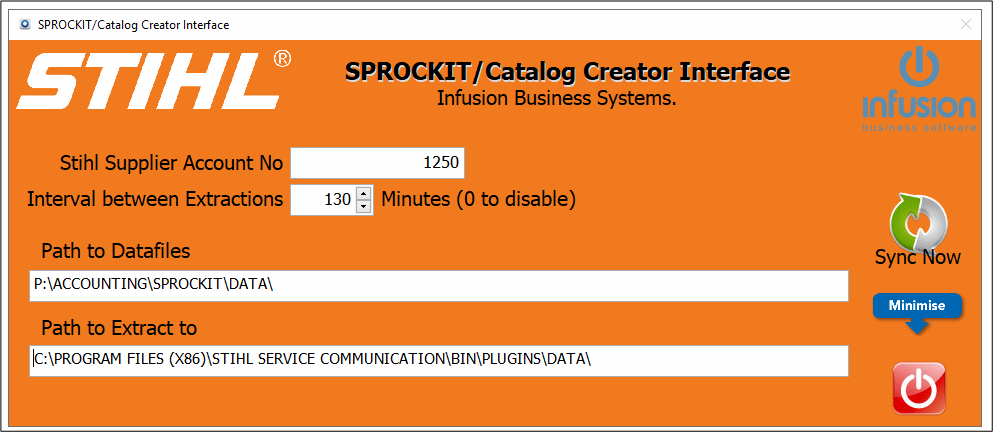 The first time this is filled in the system will sync and then exit - you know this is happening as there is a status bar in the top of the screen.
Go to the desktop and open the shortcut to reload. (Please also rename, there is a typo on Sync)

Once this is opened there will be an icon in the Systems tray, this has two options:
Extract Now will run the Sync
Show Extractor will open the Orange box.

Once the Sync is performed a text file is sent to the STIHL Service Communication folder. To ensure the install has worked open
that is sitting on the Toolbar. This is the STIHL Service Communication Program.
Enter 0000 955 0801 into the Quick search screen and double click on a description (which will be underlined)
Green = Current stock on hand
Red = Has previously been in stock
The Bin Location, Stock on Hand, On Order and Min are imported from SPROCKIT™. Reserved is not.
Troubleshooting
If this screen appears you need to restart the computer at the time – not later.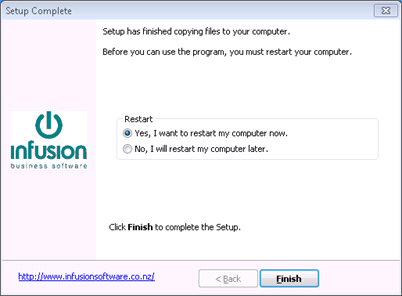 Double click on Infusion Catalogue Creator Sync Setup and double click on the Infusion Catalog Creator Sync Setup to see the Uninstall prompt.
Any problems with the Import will create the following in the C:\Program Files (x86)\STIHL Service Communication\bin\plugins\data
To see what is being imported, close the SSC and open the C:\Program Files (x86)\STIHL Service Communication\bin\plugins\data the import file will be available there.
The Composition of the import is as below:
Any queries regarding Stihl Service Communicator are to be directed back to Stihl.
Tags Mediacat Media Cat