How do I set up or tidy up my Banking Types?
Solution
Regardless of if these Banking Types are to be created or edited they are located under Admin / Settings / G/L Cashbook / Manage Banking Groups.
They are able to be Edited or Deleted in either of these two screens.
Each Banking Group needs a method for it to work.
In the example below we are going to add a new Banking Group and Method.
Select New from the Banking Groups section and enter Giftcard
Select OK

With the new Giftcard heading highlighted select New from the Banking Methods section
Enter Giftcard and tick the Open Cash Drawer if this is to happen when this Banking Method is selected.
If Intergrated Eftpos is used a second option to process the new payment method via the Eftpos Terminal will display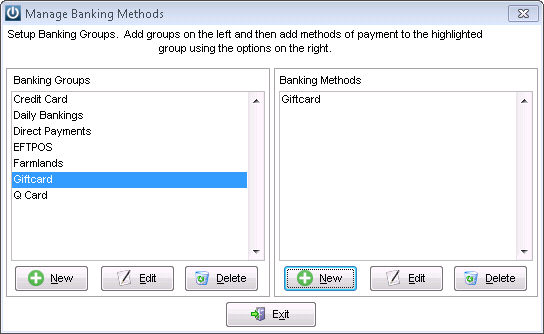 This will now show again in the Banking Method.
In the Process Sale option we have Giftcard as a Payment Option
Which carries on through to the Prepare Bank Deposit after a Cashup is done