You can create custom shortcut keys within Infusion to make completing common tasks more efficient.
Some shortcuts are set within the system as listed below.  The available keys can be used as a shortcut to any menu item, including reports or common tasks.
Go to Admin / Manage Menu Groups
Select a Menu and Submenu and Menu Item and click Change
In the Shortcut box type an available letter from below. Click Ok and Exit.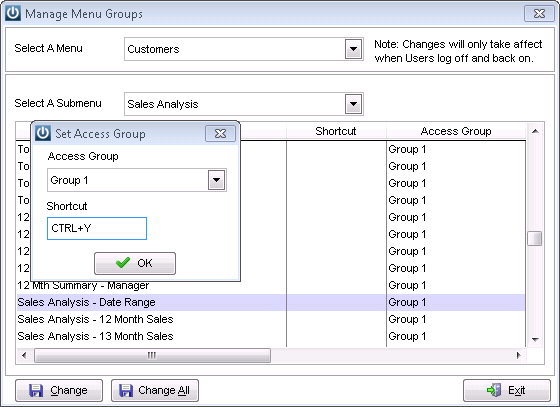 Now by clicking CTRL+Y on the keyboard the Customer Sales Analysis – Date Range form will open.
Note that this is a global setting – it will affect all users.
The existing options in the system are:
| | | | |
| --- | --- | --- | --- |
| KEY | LETTER | MODULE | TASK |
| CTRL | A | Customers | Enter Adjustment |
| CTRL | B | Suppliers | New Invoice (No Products) |
| CTRL | C | available |   |
| CTRL | D | Suppliers | Enter Adjustment |
| CTRL | E | Rental / Hire | Extend Hire |
| CTRL | F | available |   |
| CTRL | G | Reserved |   |
| CTRL | H | Reserved |   |
| CTRL | I | Invoices / Quotes | New Invoice |
| CTRL | J | Staff | Contact Management |
| CTRL | K | Suppliers | Contact Management |
| CTRL | L | Customers | Contact Management |
| CTRL | M | available |   |
| CTRL | N | Rental / Hire | Create Hire |
| CTRL | O | Purchase Orders | New Purchase Order |
| CTRL | P | Windows |   |
| CTRL | Q | Invoices / Quotes | New Quote |
| CTRL | R | Rental / Hire | Return Hire |
| CTRL | S | available |   |
| CTRL | T | Jobs | Enter Job Costs |
| CTRL | U | available |   |
| CTRL | V | available |   |
| CTRL | W | available |   |
| CTRL | X | available |   |
| CTRL | Y | available |   |
| CTRL | Z | available |   |