When I create a new Supplier Account, I have to manually set the Bank Format to be New Zealand. Why does this not happen automatically?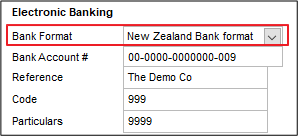 Solution
When a new Supplier Account is created, the software performs a number of default tasks in the background, one of these is to set the Bank Format.
But, when the Supplier default is set so the user will manually generate the Account Number, the line to set the Bank Format is missing in the instructions.

Ticket 13482 has been created to rectify this.