Supplier Adjustments are processed in the same way that the Customer Adjustment is done.
There are existing articles:
How Do I Transfer a Balance from one Customer to another - this will work for Suppliers too.
These are also used for
Write off small balances
Prompt payment discounts
To use the Supplier Adjustment go to Supplier / Supplier Adjustment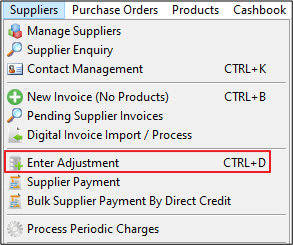 Select the Supplier Account at the Prompt
Enter the details of the transaction. Everything entered here will be recorded onto the Suppliers account and the GL ID. The GL ID will pick up the GST and it is important to read the note.
To increase the Supplier's balance, enter a positive amount, to decrease the Supplier's balance enter a negative amount.
Process when finished.