From Version 9.004 you will receive a warning if any of your data files are approaching system maximums on logging in. It is imperative that you act to avoid data corruption.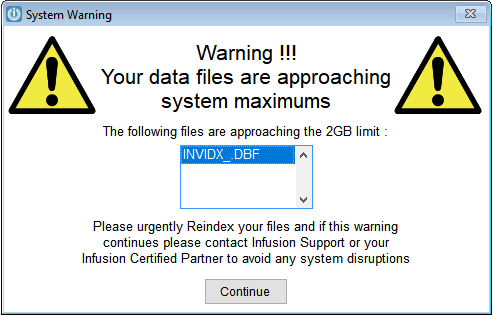 Background:
VFP database files have a maximum size limit of 2GB. Once they reach this size they commonly do not open and can be very difficult to retrieve data from. This can be extremely costly and time consuming to resolve and attempt to retrieve the lost data.
What do I do?
Without hesitation please Backup and Reindex your files. Reindexing removes deleted records from your tables and may completely resolve the issue. You'll know if you log in again and you don't see this warning that reindexing has resolved this.
Don't forget to set a reminder to regularly Reindex your files. Weekly for large organisations, Monthly for small to medium organisations.
I've Reindexed and I'm still getting the warning
Can you close off your Financial Year? Closing off the year removes old transactions as per your system Defaults. Closing off the Financial Year could delete a year's worth of Customer invoices from 8 years ago, which may resolve the issue. See Closing off the Financial Year
We recommend Reindexing your system after closing the Financial Year.
I've closed the Financial Year / or / I can't yet close the Financial Year and I'm still getting the warning.
Please contact your Infusion Certified Partner or Infusion Support as soon as possible so a plan can be made to reduce the size of the file. This plan will very much depend on which file is approaching the maximum size.