The GSTDET table that we populate, is solely for the purposes of reporting to the Inland Revenue Department.
When a record is added there, it is at this point at which the business has to declare the GST to the IRD.
So for Invoice Basis, it's at the time of entering or raising the Invoice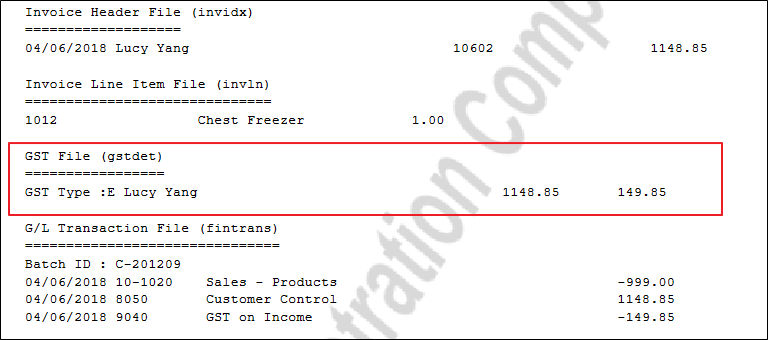 and for Payment Basis it's when a payment was made or received.
The entries in the Financials are not about the obligation to the IRD, they are accounting entries to be able to view the business trading and financial position.
The journal for a Customer Invoice is about the debt that a Customer owes the business and the other side of that is that there was a sale of goods or service AND the balance is GST.
The journal when a Customer payment is received, that's about money in the bank and the debt from the Customer being reduced. There is no way that you can put GST into that journal, even if you are on a Payments Basis.
When you are on a Invoice Basis, the GST General Ledger accounts should add up to give you exactly what you will have to pay to the IRD if you close the Business right now.
The fact that Customers might owe you money still, isn't going to alter the fact you have to pass on the GST.
On Payments Basis, it isn't so simple this is why there are other ways to confirm that the GST return is correct are needed. How do I Reconcile the GST Return with the Cashbook?
Mostly, Payment Basis is reconciled against the money that has gone in and out of the Bank account.
To know what WILL be payable when it is paid (ie looking into the future), that involves looking at the Aged Trial Balance and seeing what part of the debt owed is GST content, etc.