Wrong version of hndlib.dll
Current version: -1
Required version: 125
HNDLIB.DLL location: Saved location of Infusion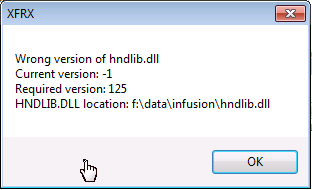 This .dll file is related to creating PDF files so any emails that are created should not be sent as they will not have attachments.
There are 4 files that should be replaced in the Infusion.  Make a backup and then copy these files to a hideme folder.
Gdiplus.dll
Hndlib.dll
Xfrxlib.fll
Zlib.dll
Replace these files from a current install.
This usually happens on sites with multiple versions.