There are a number of ways to create a PDF within Infusion.
Previewing a Report or Invoice
From the Preview toolbar, click the floppy disc icon and the select Save as PDF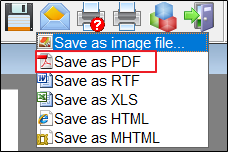 We recommend that when saving all reports if it is in the Infusion Folder that a new Sub Folder is created called Internal Reports. This will allow these reports to be cleaned out periodically.
Viewing a report selecting the PDF option from the Parameters screen will also create the PDF.
Via Email
If your staff setting allows it, you can also right click on invoices, quotes, purchase orders or jobs in the software and select "Email - Local Email Application"
This will create a PDF of the document and put it onto your computer's clipboard. You can then paste into an email or into a file.
It is recommended that these options are selected rather than selecting Microsoft's Print to PDF.
Logo's
The logo will show as very small on a PDF, check the scaling on the image. Set as Fill the frame. This will display correctly as long as the logo is in the correct frame space.
In some cases the PDF process may require more space that the printed Version See PDF Not Showing All Information
Tags: email PDF, logo,