To pay Suppliers through the Direct Credit export from Infusion, and import into your bank this is done by the following steps
Pay Suppliers
Prepare Direct Credit Export
Export Direct Credits
Load into your Bank's website or software
Reconcile the Payment in your Bank Reconciliation
Pay Suppliers by selecting the Direct Credit payment method.
Direct Credit will be selected as the method by default if a bank account is saved in the Supplier Terms Tab.
The Electronic Banking Information Screen appears each time, so even if you do not have the details saved for a Supplier, you can still add them at the time of making the payment.
Prepare Direct Credit Export
Cashbook / Prepare Direct Credit Export
Select the Bank Account
Select the date
Tick all of the payments you wish to make in this export batch. The batch total displays at the bottom. You should generally not plan to leave payments in this screen for any period of time. We recommend only making Supplier Payments that you plan to export within this batch, as they will no longer report as outstanding as Infusion considers this payment has been made. The unexported transactions can be missed if not managed carefully.
Click Save then Cancel
Export Direct Credits
Cashbook / Export Direct Credits
Select the bank account you selected while preparing the export
Check the payment date, this is the date the transaction will be recorded at.
Select the Export Format appropriate for your bank
Print the Direct Credit Schedule
Click Export and Save the file in an appropriate folder.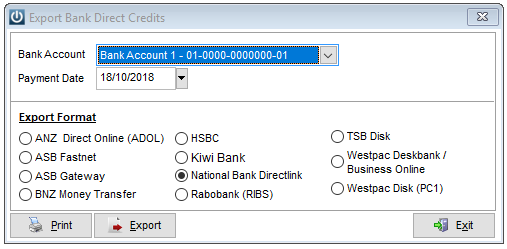 It is recommended that a DCBatch folder is created within the Infusion Folder, this will allow the DCBatch file to be saved and located easily for uploading to the bank.
It is also recommended that you name each batch with the payment date or a unique identifying name. If the file is not renamed it will be overwritten the next time it is created.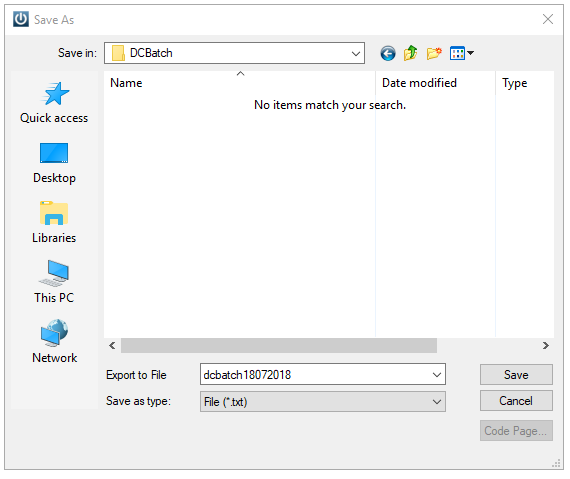 Load into your Bank's website or software
Contact your bank for more information about how to upload a file into their system to action the payments.
Ensure once uploaded that the payments loaded match the Direct Credit Schedule and if there any discrepancies contact Infusion Support.
The file will be uploaded to the Bank at today's date.
Reconcile the Payment in your Bank Reconciliation
After the payments are made you will see a single entry in your Bank Reconciliation in Infusion which should be reconciled against the Direct Credit payment on your bank statement.
Reprint a Direct Credit Schedule
Should you need to reprint a Direct Credit Schedule go to Cashbook / Reports / Reprint a Report and search for the appropriate Direct Credit Batch to reprint.