I need to add a price greater than $99,999.9999 on a product but I am unable to do this.  The Details Tab of the Modify Product Screen will only let me enter up to 9 digits including decimal places.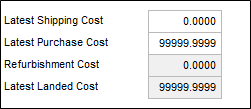 Solution
The Retail price levels is also unable to be entered with a number of digits greater than 9 on the on the details screen.
However, if the required prices are entered on the Pricing tab, then there is sufficient space to allow the entry of greater digits. 
A ticket 12509 has been raised to correct this inconsistency that only relates for users with four decimal places in the Product Rates.