I have assigned a quote to a Job and it is the wrong job, can I remove it?
Solution
Only if you have not assigned the Products to the Job.  From the Job Management / Remove Quote from Job
A screen will appear asking for the Job ID
If Products have been to the Job, the following prompt will appear.
Once the Quote has been successfully deleted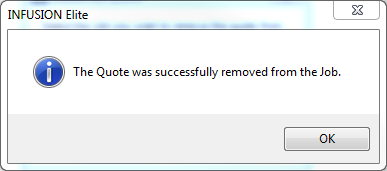 To use the quote on another job, open the Manage Quotes screen and locate the Quote.  Open and change the Status of the Quote back to Active.
This will allow it to be re-used.