I wish to tidy up the Part Filled Purchase Orders in my system but cannot delete them out.  How do I deal with them? 
Solution
To deal with any pending Purchase Orders - that have not been sent by EDI, you need to open the  Part Filled Order
Select No
At the Bottom of the screen where indicated by the arrow select the Hide fully Processed lines.  This will remove all Products that have been received correctly.

If you edit the Order Qty to match the Received number and  select the Process button the Purchase Order it will be removed from your pending purchase orders screen.
 On some occasions different messages may appear:
Unable to Process, Quantities are Zero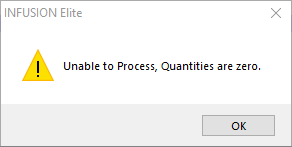 Add in a Product Code that is not Tracked, eg MISC and a Packing Slip Number and select Process.