We have discovered a large number of Workshop Jobs with a Status of Completed but with unbilled costs. Can we fix these?
Solution
Run the Work in Progress WIP - Summary report using a Job Status of Complete. That list is all Completed Jobs with Unbilled Costs.
Part 1
Under Admin / Settings / Manage Workshop / Manage Job Status - create a new status called Unbilled Completed Jobs.  Assign that Status to all Jobs with Unbilled Costs.  At the same time check that all lines on the Jobs are marked as Authorised.
Part 2
Use the Bulk Invoice Jobs option under the Job Management dropdown menu

Change the Invoice Settings to Do Not Include - Mark as Billed as shown below.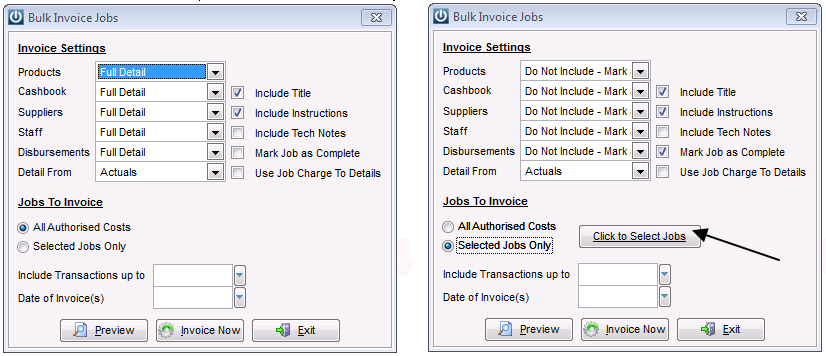 Select the "Selected Jobs Only" option, the "Click to Select Jobs" button and select the Jobs that need to be invoiced.  Include all transactions up to your specific date and the date of the invoices.  You will then have a range of zero dollar value pending invoices to process.
Part 3
From then on, ensure that your Admin / Defaults / Manage Job Defaults - Tick Mark Costs as Billed, and Automatically Authorise Costs (under the Cost Entry tab) options are selected. This will ensure that no further unbilled costs are assigned to Completed Jobs.