Infusion has three General Ledger accounts for each stock account.
An Opening Stock Account which is linked to a Closing Stock Account (both in the Profit and Loss section of the Chart of Accounts) the Closing Stock Account is linked to an Inventory Account in the Balance sheet.
At time of setup of Infusion, the three accounts should be set up with the same values.
At the end of each month a journal is done to the Closing Account and the Inventory Account to reflect the new stock on hand valuation.
This can be done using the Products / Utilities / Update Stock Value To GL function or create and process the journal yourself.
So the Cost of Goods Sold (COGS) each month is the Opening Stock (Closing Stock at end of the previous month) plus the Purchases minus the Closing Stock.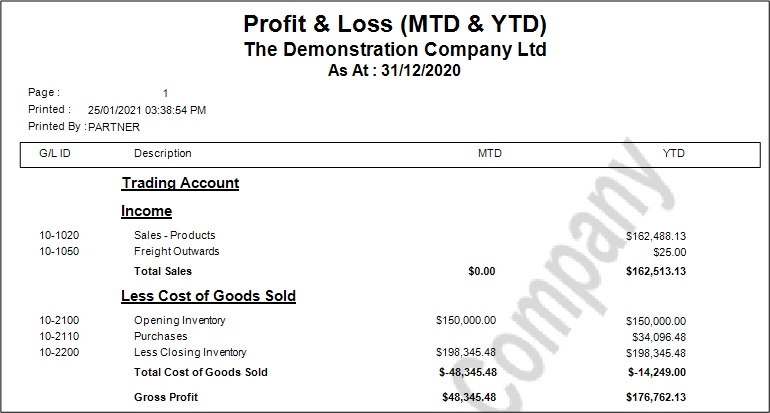 If using the Jobs Module and putting stock onto a job, the product is taken out of stock and it is now part of work in progress (WIP).
If the WIP varies a lot from month to month, then set up three accounts for WIP, an Opening, Closing WIP and an Asset in the Balance sheet called WIP.
At the end of each month, when the jobs have been invoiced, run a WIP Summary Report for the end of month, and when adjusting the stock value also adjust the WIP value. * The example only shows the Cost of the Products, not the Staff Costs but both can be included.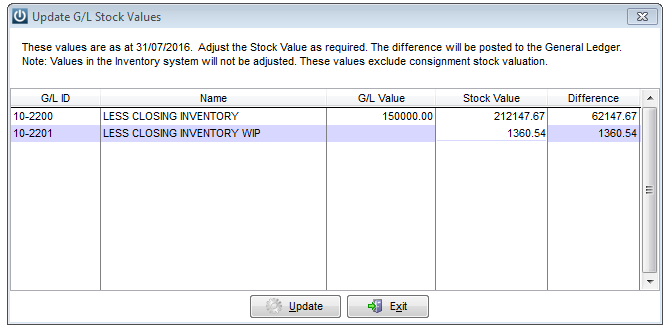 Now the Cost Of Goods (COGS) are the Opening Stock plus Opening Work In Progress (WIP) plus Purchases, minus the Closing Stock and Closing WIP.
If the WIP value is fairly static, once it is acknowledged it in the Balance Sheet, there is no need to show it in the Profit and Loss, because it isn't altering the COGS.
If making purchases from overseas, and entering in the invoices dated in an earlier month than the receipt date, a further adjustment journal is required, because the Closing Stock does not yet reflect the value of this stock.
Similarly (but opposite), if receiving in goods from a Supplier and do not receive the invoice until the following month; that means the Closing Stock value includes the stock value, but the purchases and supplier liability in the Balance sheet, do not reflect the cost of those goods. Again the COGS would be distorted unless a journal is created.
So, in both of those situations there is a need to gauge/measure the value of stock/purchases in both categories, and make adjusting journals to the General Ledger.
There are reports to help calculate both figures: the Un-invoiced Received Orders report and the Purchase Order/Receipt Date Check.